Gutters, seamless gutters, rain gutters, the Best Gutters in MN!
Metro Seamless Gutters, Inc. has been the premiere gutter installation company in the Minneapolis and St. Paul metro, plus all the surrounding suburbs since 1987. For two generations we have provided home owners and commercial businesses top-of-the-line seamless gutters and gutter guards at an affordable price.
Metro Seamless Gutters will add a clean, classic look to your home, without unsightly seams, plus our gutters are guaranteed for as long as you own your home. We fabricate our seamless gutters right at your home, using coiled aluminum stock which is fed through our fabricating machine that perfectly forms it into a one-piece, seamless gutter.
Our residential seamless gutters come in over 50 popular colors and have a durable baked-on finish that will subtly complement and blend with your homes exterior. If you have an extra-large roof that channels water from multiple slopes into a central gutter, we can even install our oversized gutters on your home. Our seamless gutters are fabricated in either the standard 5″ or oversized 6″ widths and can be made to any length, so they will fit every angle of your home perfectly.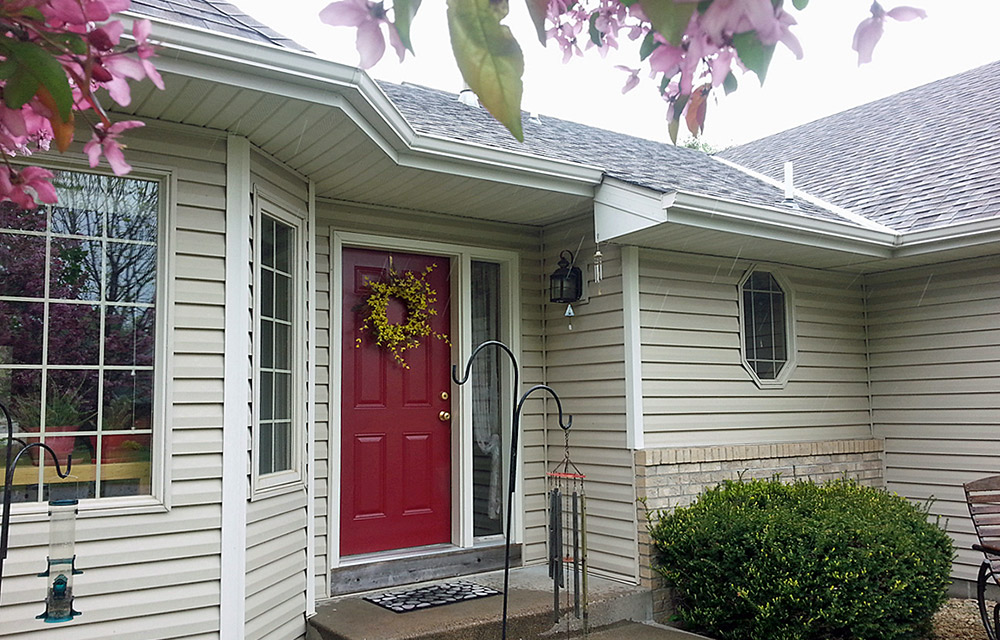 We truly care about installing the Best Gutters for you, at a price that will fit your budget.
What makes our installed gutter system the best choice for your home?
The quality of your gutters is much more than just the materials, it depends on the design and installation of the complete gutter system, that's why our gutters are argumentatively the Best Gutters you can get for your home.
To start with, when we install your down spouts, we cut holes in the proper places and install outlets; we then carefully seal the outlets to prevent leaks. Some gutter companies don't even bother to install the outlets, which are needed to prevent the downspout from tearing the bottom of the gutter over time, which creates leaks.
All of our corners are cut by hand, and held together by an aluminum strip miter or a box miter with a series of zip screws, then sealed with a polyurethane sealant called Vulkem, a superior sealant that eliminates leaks. Our straps or "gutter hangers" are also made out of aluminum, so they never rust, and are installed every 24 inches to provide ample strength for your gutters, to withstand our tough Minnesota winters.
However, one of the most important steps to any gutter install (which is often overlooked) is the correct application of the flashing. Flashing or "drip edge" is crucial to prevent the water from getting under the roof boards or behind the fascia and causing water damage and wood rot. Some companies don't install flashing because it adds to the cost of materials and takes more time to do, or if they do install it, they will charge you extra. No gutter job should ever be done without flashing installed behind the gutter! Metro Seamless Gutters, Inc. always properly installs flashing, because we want to help protect the wood fascia on your home from developing rot, plus it's the right thing to do.
As an added precaution; every screw that attaches your gutters to your home will also have a rubber washer that thoroughly seals it to stop leaks. Of course, Metro Seamless Gutters, Inc. also gives you piece of mind with our Lifetime Warranty which covers all workmanship and materials.
Trust the company that has been expertly installing gutters since 1987,
Call Metro Seamless Gutters, Inc. at 763-559-6078 or Contact Us for a quote.