Anoka homeowner's choice for the Best Gutters and covers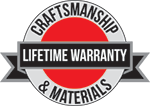 Installing the best gutters on the market with clog-free gutter covers to eliminate gutter cleaning is the logical way for Anoka homeowners to prevent water runoff from damaging their homes. Every year heavy rain storms in Anoka produce thousands of gallons of water that run off your roof. Without a system of gutters, downspouts, gutter extensions and gutter guards this water can pool next to your foundation and will eventually drain down through the soil, often producing damp foundation walls or even leaking into your basement.
Anoka area homeowners need to be aware that their home's foundation, siding, deck, patio, landscaping, concrete driveway and sidewalk are all vulnerable to damage from water constantly dropping off your roof and causing erosion. That is exactly why it is so important that your rain gutters direct runoff water from your roof out and away from your home's foundation to prevent basement flooding.
Metro Seamless Gutters are custom made on-site; using our truck mounted fabrication equipment, so they eliminate unsightly seams and fit your home perfectly. You can be assured that our gutters are correctly installed on your home and they are warranted for a lifetime of dependable service.